Mada- Assistive Technology Center Qatar is a private institution for public benefit, which was founded in 2010 as an initiative that aims at promoting digital inclusion and building a technology-based community that meets the needs of persons with functional limitations (PFLs)- persons with disabilities (PWDs) and the elderly in Qatar. Mada today is the world's Center of Excellence in digital access in Arabic.
Mada provides services related to digital accessibility consultations and awards accreditations to digital platforms in accordance with the international standards of accessibility.
These standards, when upheld, allow for the elderly and those. with disabilities and impairments to independently access and navigate digital media. (Learn more about Mada)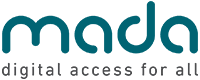 Applab works side by side with Mada to provide accessible digital services.
Applab empowers businesses to make platforms and mobile applications accessible starting from the first stages of development and design. One of the dimensions that have to be considered when developing an accessible website or mobile application, the choice of colors that must be adjusted to be able to pass the contrast ratio test. Applab excels in this dimension among others.
After the design stage and in the coding stage, developers follow frameworks that ensure that website and Mobile Applications complies with International Standards for Web Accessibility: W3C, WCAG 2.1, A, and AA. After that, Applab's testing team tests apps or websites manually and automatically to ensure its usability. Testing sessions will thereafter be arranged with Mada until the service is accredited. Following the granted accreditation, Applab consistently tests and checks the accessibility ranking in order to ensure that the services are always accessible.
A number of Applab's projects have been accredited or are in the process of being accredited by Mada as an accessible service.
Applab's accredited accessible projects: